The CAS Engineering Laboratory for Yellow River Delta Modern Agriculture (Engineering Lab) was established in July 2018. Facing the national "Rural Vitalization Strategy" and "Yellow and Blue Strategy", the Engineering Lab works on solving key scientific and technological (S&T) problems and proposing systematic solutions for modern agriculture in saline-alkali regions.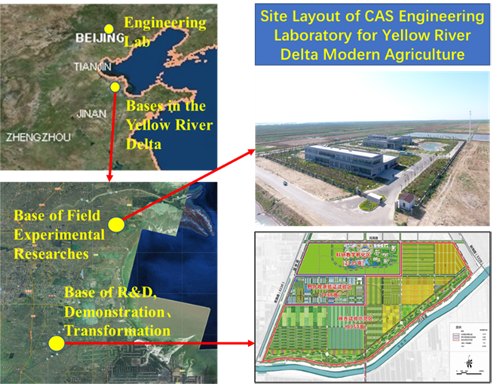 The Yellow River Delta is a representative natural laboratory for these S&T purposes. Through assembling the advantages of multi-disciplinary technology innovation of the Chinese Academy of Sciences (CAS), organizing all CAS teams related to saline-alkali agriculture and modern agriculture, and collaborating with other scientific research institutions and enterprises, the Engineering Lab focuses on studies of alkali-saline land improvement, halophyte application, salt-tolerant variety screening and breeding, facility farming on saline-alkali land, natural resource (water, soil, and climate) utilization, comprehensive development of saline-alkali land, and digital/smart agriculture.
Through carrying out technological innovation, achievement transformation, and S&T service, the Engineering Lab aims at creating a technological innovation highland of saline-alkali agriculture, a talent training base, a communication platform of scientific research, and an achievement transformation and promotion center.
The outputs of the Engineering Lab serve the development of modern agriculture and the construction of beautiful village in the Yellow River Delta, Shandong Province, the North China Plain, eastern coastal areas in China, and other regions in / out of China.
Director: GE Quansheng
Deputy Directors:
JIA Xiaoxu
LI Fadong
SUN Zhigang
LIU Hongtao
HUANG Chong