"The International Workshop on Flood Management under a Changing Climate in the Ganges-Brahmaputra-Meghna (GBM) River Basin" sponsored by the Alliance of International Science Organizations (ANSO) collaborative research project was successfully held on 15 September 2023 in a hybrid form, with the onsite venue at IGSNRR.
The workshop was hosted by the Institute of Geographic Sciences and Natural Resources Research of the Chinese Academy of Sciences (IGSNRR, CAS), attracting participants from all over the world.
This international and interdisciplinary workshop focused on flood management in the GBM river basin. Dr. ZHANG Ming from the Department of External Cooperation of IGSNRR delivered an opening remark for the workshop. Speakers from IGSNRR, the University of Birmingham, the Indian Institute of Technology Gandhinagar (IITGN), Tribhuvan University, Shiraz University, the National Meteorological Centre (China Meteorological Administration), Dalian Maritime University, the Aerospace Information Research Institute of the Chinese Academy of Sciences (AIR, CAS), and Sun Yat-sen University (Zhuhai) shared their insights on monitoring and modeling of floods in the GBM river basin.
Prof. TANG Qiuhong, PI of this ANSO collaborative project, introduced the overall achievements of this project. Research members, Prof. Vimal Mishra from the IITGN, Dr. Binod Baniya from Tribhuvan University, Dr. XU Ximeng and Dr. HE Li, both from IGSNRR, introduced their research progress. Participants also had heated discussion on subsequent research of the project during the workshop. Prof. Vimal MISHRA from the IITGN and Prof. Nigel WRIGHT
from
the University of Birmingham suggested taking relevant flood mitigation measures
to the local area through agencies
(i.e., the United Nations) to serve the GBM river basin.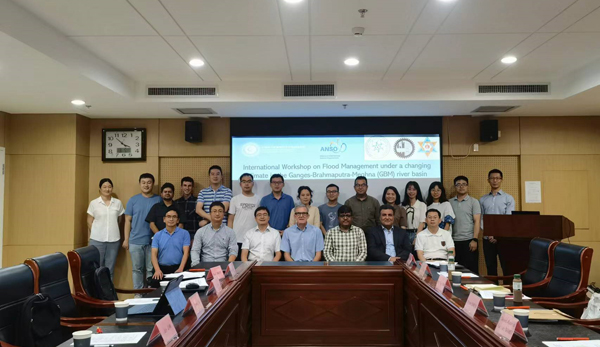 Photo of On-site Experts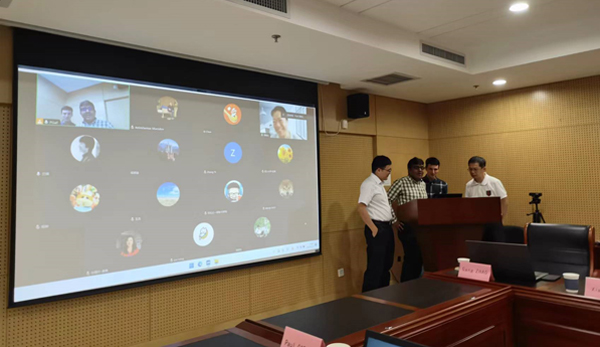 Online and On-site Discussion