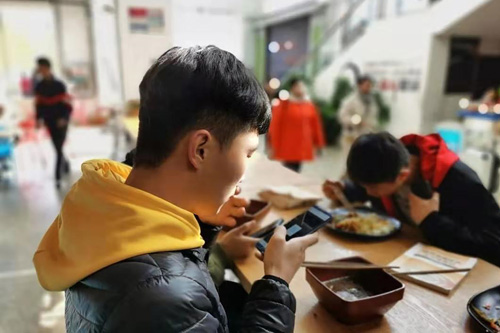 A student uploads a photo of his empty plate to a WeChat mini program called Clear Plate at the canteen of his school. Photo provided to China Daily
Catering service providers in Beijing who encourage, mislead or force consumers to order too much food may face fines of up to 10,000 yuan ($1,570), according to a regulation passed by the municipal legislature on Thursday.
The regulation, aimed at preventing food waste and promoting a simple, green and low-carbon life-style, came into effect on Thursday after being adopted at a session of the Standing Committee of the Beijing Municipal People's Congress earlier in the day.
According to the new regulation, catering service providers should not set a minimum consumption amount and should clearly state service items and their charging standards.
It said food delivery platforms should remind consumers to order the proper amount of food. Catering service providers that provide food through online platforms should indicate information such as the meal specifications, reference quantity, taste and suggested number of consumers on webpages to promote smaller meals or set meal options.
Catering service providers will face fines ranging from 1,000 to 10,000 yuan if they violate the regulation and refuse to rectify their behavior, it said.
Liu Xiaojie, an associate researcher with the Institute of Geographic Sciences and Natural Resources Research at the Chinese Academy of Sciences, said the new regulation has upgraded ethical requirements to the legal and normative level, providing institutional guarantees for the effective governance of food waste and arousing more public attention.
"It also guides the public to establish the right outlook on consumption to create a good environment of diligence and thrift in society," she said.
Liu said approval of the regulation signified a new direction in modern public governance.
"Less mandatory rules, more participation and guidance for the public will increase awareness about avoiding food waste and help more people form a good habit," she said.
Some restaurants in Beijing expressed support for the regulation.
Tian Yonggang, manager of the Lingqi barbecue shop in Beijing's Chaoyang district, said he had previously noticed that some customers, influenced by traditional Chinese notions of hospitality, liked to order more food than they needed.
"We've applied some measures since the end of last year to cancel the large bibimbap meal and replace it with small sets of bibimbap meals that involve more vegetables and less rice," Tian said.
"The price for each meal set has not changed a lot since the market price also varies and it's more nutritionally balanced for our customers, which can prevent food waste to some extent."
With the introduction of the new regulation, Tian said the store will pay more attention to takeout food orders.
Wang Rongmei, vice-chairwoman of the Standing Committee's Legislative Commission, said the new regulation is in line with articles in the country's law to curb food waste.
On April 29, China's top legislature adopted a new law on preventing food waste to safeguard food security and combat waste. (China Daily)