On October 31, 2020, Ms. ZHANG Linxiu, professor of the Institute of Geographic Sciences and Natural Resources Research of the Chinese Academy of Sciences, and Director of United Nations Environment Programme – International Ecosystem Management Partnership (UNEP-IEMP), was invited to attend the 21st Annual Academic Meeting of Systems Engineering Society of China (SESC) and delivered a plenary lecture.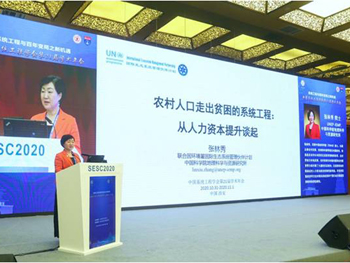 With the title of "System engineering that moves the rural population out of poverty: starting from the promotion of human capital", prof. ZHANG introduced the application of systematic thinking and research paradigm in the research of specific applied disciplines and social development practice around three dimensions: multiple poverty alleviation measures, optimization of resource allocation to leverage significant developmental outcomes with small investment, systematic extension of academic research results and policy advocacy. Taking the project of improving infant care and promoting human capital development potential as an example, she demonstrated the application of system engineering in anchoring empirical research problems, optimizing project resources, iterative upgrading and promoting project results vividly in detail.
The report inspired interesting and extensive discussion among the participants. In the discussion session, they exchanged ideas and responds to the research work in the field of humanities and human capital input and output, etc.