The World Data System Asia-Oceania Conference 2019 (WDS-AO 2019) was held at the Institute of Geographic Sciences and Natural Resources Research (IGSNRR), Chinese Academy of Sciences (CAS), on May 7-8. More than 120 experts and scholars from 14 countries, including China, Japan, Australia, Russia, Netherlands, United Kingdom, Mongolia, Pakistan, India, Thailand, Nepal, Bangladesh, Bolivia and Sudan, participated in the conference.
The conference organized six sessions during the two days. On the agenda there were discussions of international collaboration on data, data for geophysics and space science, the development of data-sharing systems, marine and polar data, data processing and evaluation, and a WDS forum. This conference aims at promoting exchanges and cooperation among the WDS Asia-Pacific data centers.
The co-chairmen of the conference, LIAO Xiaohan, Deputy Director of IGSNRR, CAS, and Prof. Takashi Watanabe, Kyoto University, Japan, hosted the opening ceremony.
WANG Shuzhi, Deputy Director of the General Office of the CAS, stressed the significance of sharing data. He said that the level of scientific research depended on the collection, management and analysis of data. "With the emergence of big data, scientific discovery relies more than ever on the collection, management and analysis of massive amounts of data. The level of scientific research also depends more and more on the accumulation of data and the ability to transform data into information and knowledge," he added.
WANG Ruidan, Deputy Director of the National Science and Technology Infrastructure Center of China explained why he is confident his institution will develop closer cooperation with the WDS Data Center in the future.
LI Guoqing, a former member of the WDS Science Committee and a professor at the Aerospace Information Research Institute, CAS, pointed out that at present the key problem for data sharing is that people's understanding of the connotations of data sharing are inconsistent. This is especially true of the people tasked with making data policies for different organizations.
WANG Juanle, who acted as secretary-general of the conference, chaired the organizing committee, and is an IGSNRR, CAS, professor, explained how the conference was organized. He also noted that the scientific community's awareness of data sharing and its importance have obviously increased. "A lot of projects now focus on data sharing as an key output goal instead of stopping at assessments of the results," he said.
Sandy Harrison, chairman of the WDS Scientific Committee, gave a keynote report on "World Data System–Trustworthy Data Services for Global Science." She gave background information on WDS, its establishment, goals, and principles, introduced scientific committee members and WDS members, and discussed future priorities of WDS.
She described strategic challenge domains that the International Science Council (ISC) faces, including the 2030 agenda for sustainable development, the digital revolution, science in policy and public discourse, and the evolution of science and scientific systems.
The conference was hosted by ISC-WDS and organized by IGSNRR, CAS. World Data Center for Renewable Resource and Environment provided logistics and technology supported the events.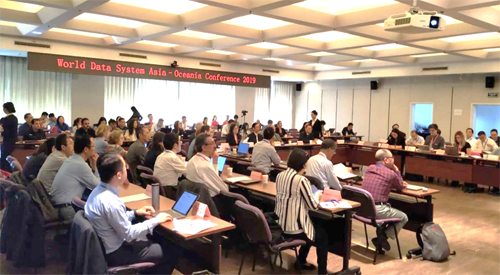 Attendees